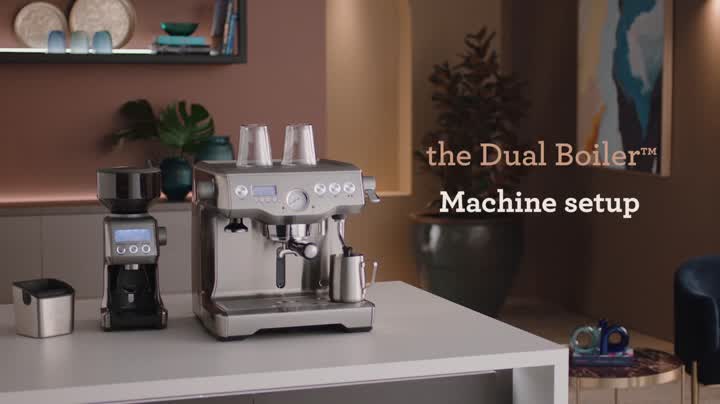 Setting up your espresso machine.
Setting up your espresso machine.
Step-by-step guide to calibrate, clean, and prime a Dual Boiler Espresso Machine for optimal coffee extraction performance.
Congratulations on purchasing The Dual Boiler™.  Let's take a look at the setup and first use of your espresso machine.
Begin by washing all of the parts and accessories and dry thoroughly before use.
Soak the new water filter in a bowl of water for 5 minutes.
Set the new water filter to the current month by rotating the dial to the corresponding month number (1 being January and 12 being December) then assemble the water filter in its holder, ensuring it is firmly connected.
Fit the new filter and holder snugly into the water tank by clicking it into place.
Fill the water tank with cold water to the 'Max' line level.
Check your water hardness by dipping a water hardness test strip into the water tank.  The reading from the water hardness test strip will be used in a later step.
Reinsert the water tank back into the espresso machine.
Choose the right filter basket for the coffee you are making.  Use a 2-cup filter basket (shown on right above) when making 2 coffees or when you want a stronger coffee.
If you are making a single cup or a weaker coffee, use the 1-cup basket (shown on left above).
Your espresso machine comes with both single and dual wall filter baskets.
When your coffee beans are at their peak of 5 to 30 days following the roast, use the single wall filter basket (shown on right above).
If your coffee beans are older than 30 days or if your beans are nearing their 'use by date', use the dual wall filter basket (shown on left above).
Press the POWER button to switch the espresso machine on.  A pumping sound will be heard indicating that the empty boilers are being filled with water for the first time.
The POWER button light will flash and the LCD screen will display the current espresso boiler temperature.
When the machine has reached the operating temperature, the POWER button light will stop flashing, and the MANUAL, ☕️ (1-Cup) and ☕️☕️ (2-Cup) buttons will be illuminated.
When prompted, enter the result from the water hardness test strip so that the machine will automatically alert you when to de-scale or change the filter.
The Dual Boiler™ espresso machine is now setup, you are ready to make your first coffee.
---